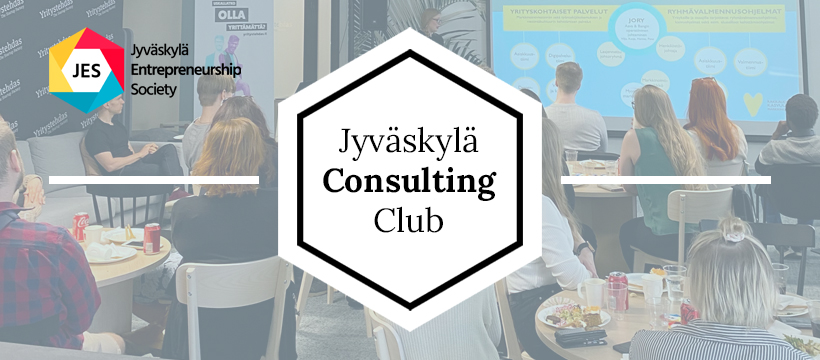 June 1st, 2nd, 8th and 9th from 6pm to 8pm
Information about this event
Yritystehdas, Kympinkatu 3 C
June 1st, 2nd, 8th and 9th from 6pm to 8pm
Jyväskylä Consulting Club is a brand new event concept hosted by JES and management consultant Joona Koivisto!
"I've always been interested in the concept of consulting and the idea of apprenticeship work. After working in consulting for a few years and beginning to make the shift to management consulting, I understood that there is little to no information available about consulting in Jyväskylä. I wanted to change that and allow students and young professionals to learn more and develop themselves – possibly towards a future career in the field." – Joona Koivisto
The Club focuses on learning about consulting, developing new skills and solving case work together. You'll learn skills you can exploit in everyday life, such as how to communicate smarter, work more productively and structure your inner thoughts better. You can expect to fast track your professional development and future career, and to meet like-minded people who you could be working with in the future.
The Club has four sessions in early June (1st, 2nd, 8th & 9th), each focusing on slightly different themes. JES provides snacks and beverages for each session, and the last session ends with a private sauna night on top of the roofs of Jyväskylä – all drinks on the house!
Still have questions about the event or JES ry? Contact us on Messenger!
We hope we meet you at the event!